, 99999K miles
8 cylinders, Automatic transmission
Surf Green with Black interior

1969 GMC G20 Wideside

SOLD SOLD SOLD

Here is an excerpt from my Log having some fun with this truck while I still had it in California.

I have been driving this truck all day for the last couple of days, and I have to add what a great truck it is. I have been flying down the LA Freeways day and night, from 80mph to a screeching stop, over and over in the LA traffic, on the 405, the 105, the 110... I got stuck in Friday bumper to bumper traffic for an hour going from Downey to the Ruby's Redondo Beach cruise in. Everyone loved it at the cruise in. People could not believe the price for how nice the truck was. They said they thought it would be closer to $20,000. Tomorrow morning I am putting surfboards in the back, then driving up the Pacific Coast Highway for some surfing. Then I will probably drive it to the dry lakes of El Mirage to watch some land speed racing. This truck is very clean, and takes no effort to drive around in it for hours.
---
Had a great trip to El Mirage. The truck did great on the highway. Very easy to drive. 104 degrees! Time to give the truck a bath.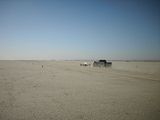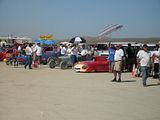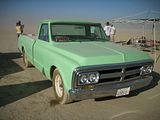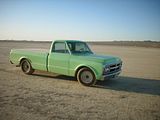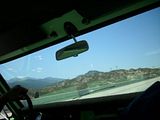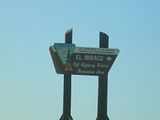 MORE PICTURES BELOW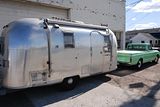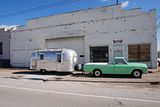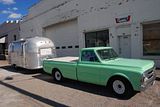 LOTS MORE PICTURES AND VIDEOS BELOW --------------- LOTS MORE PICTURES AND VIDEOS BELOW
This is a Air Conditioned 1969 GMC 3/4 ton Pickup powered by a big block Chevy. It is a nice truck that has plenty of power for cruising and driving is effortless. Our dream is that this truck would be the ultimate Airstream puller. Class III Hitch.
This truck has a rebuilt big block Chevy engine with an Turbo 400 automatic transmission. Everything only has about 1500 miles on it since it has been rebuilt. The truck has aftermarket headers and exhaust with Magnaflow mufflers. There are also cut outs to uncork if you want straight exhaust. It has an Edelbrock 4-bbl carb. It has dual fuel tanks with a backup tank switch. The fuel gauge is hooked up for the main tank, and works correctly. A high amp alternator and Accel HEI electronic distributor provide spark. . It also has a new heavy duty cooling system and a new starter. The transmission is a Turbo 400 automatic that has recently been rebuilt. The rear is a Dana 60 posi unit. The stock springs were replaced with lowering springs front and rear, to give the truck a great overall stance
The original air conditioning on the truck works. All new hoses, lines, condensor, auxilary electric fan for condensor, POA valve, etc.. It blows cold.
It has large G-20 rebuilt power drum brakes with a dual master cylinder that help this truck stop effortlessly.
The truck has the Wideside (Fleetside) bed and has been fully repainted in an awesome Surf green color. The door handles and all emblems were shaved off in the process. The doors now open with a keyless remote. They can all be put back on easily without having to repaint the door if you decided you wanted regular handles. It is quick and easy to go back, if you decided to go with handles.
The body is very straight and solid. The doors, hood and tailgate all line up nicely and all open and close properly with new weatherstripping and felts. The chrome bumpers are both in good condition. The grill is also in good condition with no cracks. The headlights and taillights are all in nice shape with no hazing or scratches. An aftermarket soft tonneau cover has been installed. It is made out of off white vinyl. The original bed has also been replaced with new wood and stainless steel hardware and strips. The wheels are the factory steel 8-lug wheels and have been repainted white.
The interior has a new black vinyl bench seat with a green cloth insert. There is a new black headliner. It also has black vinyl door panels. The chrome door handles and window handles are present and in good condition. The windows still roll up and down smoothly. The glass in the truck is all in good shape with no rock chips or anything like that. It has a late model column with an aftermarket tachometer. It also has the original AM radio still in place, along with the HVAC controls. All of the metal parts inside have been repainted the factory light green to match the exterior.
The underside of this truck is in outstanding condition. All of the factory spot welds are still intact. There is no rust, and it is all painted a nice black. It is very rare to find an underside that is as nice as this one. This shows that it was well taken care of and was in a dry climate for most of its life. Make sure to check out all of the underside pics to see how nice it really is.
This truck is extremely fun to drive. It has nice smooth power but is still very streetable, easy, and pleasant to drive. You can cruise with this truck or you can tow a trailer with it. Picture it towing an Airstream. This is a nice all around truck that can serve many purposes.
We are open to trades. Please email pictures and a description of the car to sakmotors@gmail.com

SHIPPING: The buyer pays all shipping, but I am happy to assist in any way I can. I have shippers I can refer you to that ship cars regularly for me all over the USA and all over the world.

FINANCING is available through the following companies:

Woodside Credit 800 717 5180
J.J.Best Banc & Co. 800 USA 1965 (800 872 1965)

All of our cars are sold where is - as is. With no warranty. All vehicle sales are subject to a $199 processing fee. I do my best to give you as accurate information as possible. I do welcome you to set up an appointment to have the car inspected. I prefer to pick this car to pieces for your inspector, you, or over the phone. I don't want you to buy the car unless I am assured you will be very happy with it, and you know exactly what you are buying.

Please call if you have any questions.

I have many other cars, only some of them are on my site. Call me if you are looking for a car, or if I can help you in any way.

Wil Sakowski

visit www.sakowskimotors.com

910 399 5939

email: info@sakowskimotors.com
Videos: