We have many other items up for sale, search our "other items" to see our other Old Crow auction items, and Sakowski Motors items for sale.

The Old Crow Speed Shop in Burbank California has amassed an incredible collection of classic cars, hot rods, land speed race cars, parts, and projects. They have a real knack for finding some amazing and rare items from the past. however, space is becoming an issue. So in order to make some room and concentrate on their primary pursuit of Land Speed racing, the Old Crow speed shop has contacted Sakowski Motors Los Angeles to auction off some of the treasures. Considering that they never sale anything, this is definitely a rare opportunity.

Feel free to contact Sakowski Motors, we are here to answer any of your questions, and to assist you in getting one of these historic items into your garage.

Keep an eye out on Ebay for our future auctions. There is more to come.


Our Ebay Auctions

Wil Sakowski
info@SAKOWSKIMOTORS.COM

Check out Ebay About Me page to learn more about Sakowski Motors.

To find out more about The Old Crow Speed Shop:



www.oldcrowspeedshop.com
www.bellytank.blogspot.com We have many other items up for sale, search our "other items" to see our other Old Crow auction items, and Sakowski Motors items for sale.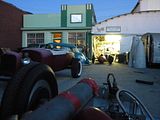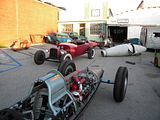 Original 1932 Henry Ford Phaeton project. Body ONLY, no frame.

The original steel body of this rare car, is ready for you to start your project.

The Firewall, front cowl, front doors and B pillars are from an American phaeton. Same as a roadster. The rear doors and back of the body are from an Australian Phaeton.The American and Australian rear panels are a little different. The only difference with the rear panel between American and Australian is that the Australian stamping was one piece and the American stamping was in three pieces. I have a center panel from an American phaeton and I am including the panel with this project, so if you want to convert it to an American style, you can. Most people don't care. But it's there if you do.

The roadster / phaeton cowl on this car is in amazing shape, and has never had patch panels. The floor and subframe are in incredible shape as well.

The B pillars are very rare, and this auction comes with an extra set that have been patched on the bottom. Included are Inner front door stamping to patch both inner doors, they are fabricated by Brookville.. There are no outer door panels/skins, but these can be bought at Brookville.

The auction also includes some rear door inner panels that were made a long time ago to put inside the rear doors.

Comes with a real original Henry Ford 32 frame that has been boxed, with an A front crossmember. There are no center or rear crossmembers.

You get a lot of extras with this body and frame including a top.

Examine the pictures closely. Take a good look at all the pics. What you see, is what you get. Nothing more, nothing less.

Except you don't get the original blue car, or the black Paul Gommi Phaeton at The Grand National Roadster Show.