We have many other items up for sale, search our "other items" to see our other Old Crow auction items, and Sakowski Motors items for sale.

The Old Crow Speed Shop in Burbank California has amassed an incredible collection of classic cars, hot rods, land speed race cars, parts, and projects. They have a real knack for finding some amazing and rare items from the past. however, space is becoming an issue. So in order to make some room and concentrate on their primary pursuit of Land Speed racing, the Old Crow speed shop has contacted Sakowski Motors Los Angeles to auction off some of the treasures. Considering that they never sale anything, this is definitely a rare opportunity.

Feel free to contact Sakowski Motors, we are here to answer any of your questions, and to assist you in getting one of these historic items into your garage.

Keep an eye out on Ebay for our future auctions. There is more to come.


Our Ebay Auctions

Wil Sakowski
info@SAKOWSKIMOTORS.COM

Check out Ebay About Me page to learn more about Sakowski Motors.

To find out more about The Old Crow Speed Shop:



www.oldcrowspeedshop.com
www.bellytank.blogspot.com We have many other items up for sale, search our "other items" to see our other Old Crow auction items, and Sakowski Motors items for sale.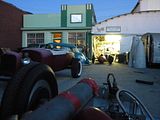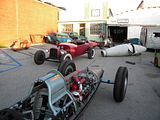 1935 Studebaker Custom

This car was found in the Los Angeles backyard of an old gentleman that collected cars his whole life. He bought it back in the 70's from a guy who had a bunch of Movie cars. We are unsure of who built it or what movies / TV shows it was in, so if you recognize it, please let us know.

Could be a Barris Built Car, or a Gene Winfield movie car. I think we will find out more about this awesome find during the auction. I will post up what I hear or find about this wild ride.

Here is some info from the best we can tell: The chassis and body are a 1935 Studebaker that was sectioned around 8 inches, and had a 1949 Studebaker roof grafted on to it. This is one wild custom.

The body has not been channelled. The dash is stock. It looks like the body was originally a roadster or coupe from what we can tell. The headlights are stock. We have the stock bumpers.

Take a good look at all the pictures. What you see is what you get.

There is a brass plaque on the dash that says, "Dictator". The car was supposedly running well a couple of years ago, per the previous owner. But, I would consider this a full restoration candidate.
The straight 6 engine and transmission appear to be from a 60's Ford Falcon. It does look like you could get this ride going.

Restore is to it's former glory, or make it your own. See the incredible renderings in the pictures below.

This a chance to have a one of a kind custom.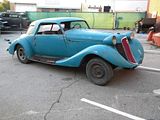 Hmmmm...... I don't think I have seen one of these before.

A Photoshop of the car lowered, with white walls...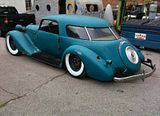 Below are renderings by Chris Piscitelli of what could be. www.design165.com