CONTACT: Wil Sakowski at info@SAKOWSKIMOTORS.COM or wil@RIDEFREE.COM
phone: (310)978-9558 Los Angeles, California. Next to the LAX Airport.

Feel free to contact me for the price or any questions you might have, we can skype/video skype if you would like.
Our eBay Store: Sakowskimotors Keep an eye out on Ebay for our future auctions. There is more to come.
SCROLL DOWN FOR PICTURES
SHIPPING: The buyer pays all shipping, but I am happy to assist in any way I can. I have shippers I can refer you to that ship cars regularly for me all over the USA and all over the world.
All of our cars are sold where is - as is. With no warranty. All vehicle sales are subject to a $80 processing fee. I do my best to give you as accurate information as possible. I do welcome you to set up an appointment to have the car inspected. I prefer to pick this car to pieces for your inspector, you, or over the phone. I don't want you to buy the car unless I am assured you will be very happy with it, and you know exactly what you are buying. 310 978 9558
I have many other cars, only some of them are on my site. Call me if you are looking for a car, or if I can help you in any way.
NOTICE
Sakowski Motors refuses to accept any deposit, payment, or complete any sale until we are 150% sure you will be extremely happy with your purchase. This includes a long phone conversation with us both going over all the pictures in detail together while talking about the item.
2013 Harley Davidson Road King Classic Blue FLHRC

IHDIFRM38OB690407


From the dealer: ABS, Alarm, deep metallic flake paint, white walls, leather saddlebags, 103 motor, 6 speed transmission, FLHRC.
Custom work: chrome fork lowers, chrome beach bar handlebars, chrome brake discs, both stock and smaller smoked windshield, steel braided brake and clutch cables, Screaming Eagle air cleaner.

2013 Harley Davidson Road King Classic fully serviced and ready to go. Full service history, all stock and never laid down. All the lights and blinkers work perfectly. The blue paint is in amazing shape with only a few small blemishes that are hard notice. This bike drives as it should and the motor sounds great, at idle, or higher revs. Starting the bike shows no smoke and no odd noises. All the electronics's turn on as they should and the gauges work correctly.

If you have not ridden one of these, they are very fun to drive around town and cruise the countryside. It's a combination of long haul power with an extra touch of nostalgia.


When you decide to start riding you'll notice the clutch still feels great with a lot of life left in it, and it goes right into gear. Once cruising the bike goes perfectly through all its gears, never any hesitation. When you are at highway speeds you will notice the bike is very smooth and stable, heading into sweeping turns you will feel confident knowing the bike can handle any roads you drive . The suspension absorbs the bumps like it did the day it was made. The chrome disc brakes have plenty of life left and are very smooth with abs and enough stopping power to make you feel comfortable at cruising speed.
Matching leather saddlebags are included ( and can be removed as well). The fork lock works perfectly and the key turns like new. The kick stand is perfect, and the running boards are in good shape. White wall tires and blue metal flake paint from the factory give this bike an extra touch of old school that compliments this bike's retro style.This is a great ride for the long haul with a tall windshield and cruise control to keep you comfortable on any road trip. This bike also comes with a smaller smoke colored windshield. Steel braided brake and clutch cables give a nice clean look to match this bike's great paint and chrome.
Let me pick apart this vehicle with any imperfections I can find. There is a tiny nick on the gas tank. That is it, and it is very small.
With so few miles on this bike, the tires are in great shape. All common wear and maintenance items have been inspected and the bike is up to date. No puddles or drips of oil are found under the bike and all the fluids look and smell fresh with no signs of cross contamination.

Bike is currently by El Segundo. Shop phone number (310)978-9558 Wil Sakowski
VIDEOS
OVERVIEW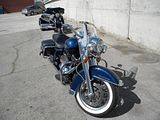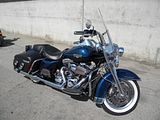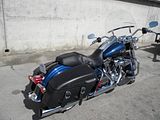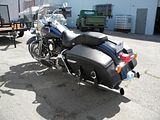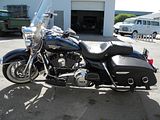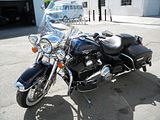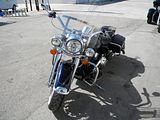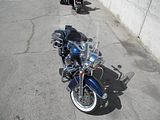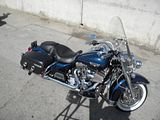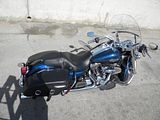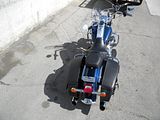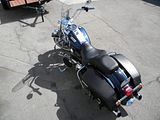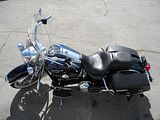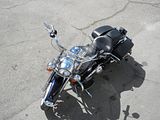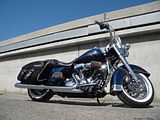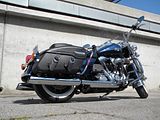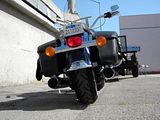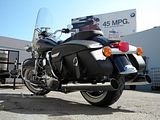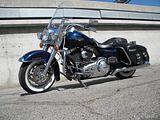 DETAILS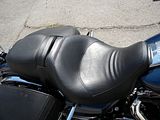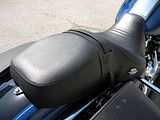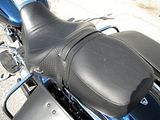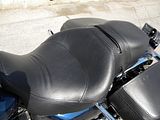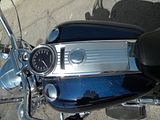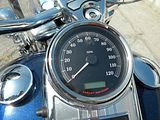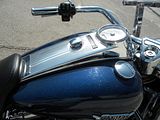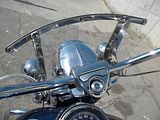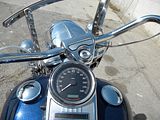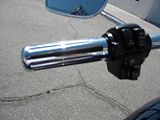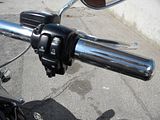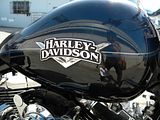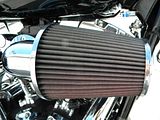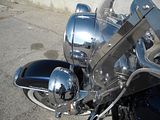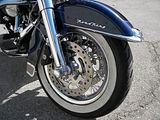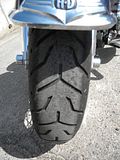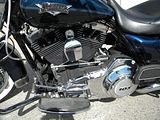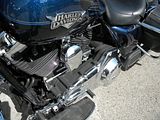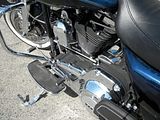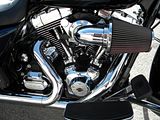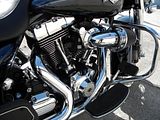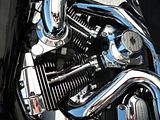 UNDERSIDE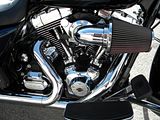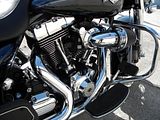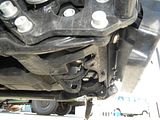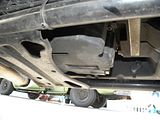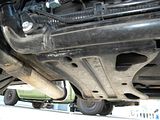 ACCESSORIES