CONTACT: Wil Sakowski at info@SAKOWSKIMOTORS.COM
phone: (310)978-9558 Los Angeles, California. Next to the LAX Airport.
The Rodder's Journal Roadster.
1932 Ford Roadster. Built by Roy Brizio Street Rods. Owned by Steve Coonan, Founder and Publisher of The Rodder's Journal.
This roadster will be featured in the issue of The Rodder's Journal now in production. The Rodder's Journal is the world's leading publication dedicated to traditional hot rod and custom cars and features the very best in automotive photography, writing and design.
History - 43 Pictures Below
By Steve Coonan
I got this roadster approximately 7 years ago, not long after we started referring to it as the "Rodder's Journal Roadster". It was originally built for Rich Dederian by Brizio Street Rods back in the late 1990s. Rich has been a hot rodder since the 1950s and even had a flathead-powered channeled Deuce roadster in one of Petersen's Trend one-shot books back in the '50s. He had known Roy for years since both of them are from Northern California.
Rich sent Roy a nice original '32 roadster body and had him build the Deuce highboy of his dreams. It was featured in the August 2000 issue of Street Rodder Magazine. He had only put about 7000 miles on it when I acquired it. I loved the car, but wanted to change a few things to make it more of my own. My favorite '32 highboys have always been the Tom McMullen, Gary Kessler and Barry Lobeck roadsters. My goal was to give this car the same flavor, but with straight black paint.
I owned the Lobeck Roadster from 1980 until the early 1990s when I sold it in preparation for starting The Rodder's Journal. My goal with the roadster I now have was to retain all of the great driving characteristics that Brizio cars are well known for while giving it as much of the McMullen/Kessler/Lobeck-style look as possible.
The first year I had it, I added the rear frame horns a stock-style gas tank and a new full-length grille shell and insert. This work was done at Brizio Street Rods. I also changed the exhaust system, and made a bunch of other small changes to change the aesthetics to more my taste and make the car as suitable as possible for both long-distance rod runs and around town cruising.
More recently the 9-inch Ford rear and coilovers have been removed and replaced with a Model A crossmember, Model A spring and a Winters V8 quickchange with the early Ford style bells. California Street Rods in Huntington Beach, California, performed this work. This year the top end of the engine has also been updated. Edelbrock Performer RPM aluminum heads were installed along with a new Edelbrock Performer RPM intake. I have also tried to backdate the appearance of the engine to give it a mid-to-late '60s' vibe. I have always loved the idea of having a Deuce highboy with a muscle car type drivetrain. I like the look, feel and performance of the era. Moon finned-aluminum valve covers and a GM hi-po-style air cleaner were installed with this in mind.
This year I have also had Sid Chavers custom fit one of his new Bop-Tops. I love driving the car without a top, but I do like the extra protection from the sun and rain. The new top proved to be worth its weight in gold in a recent trip to Texas for the Lonestar Roundup. I chose an off-white color, since I though it contrasts nicely with the black paint and polished wheels and contributed to the 1960s vibe. I chose a removable rear window, which does improve ventilation and visibility, particularly on long trips. I also feel the removable rear window gives a more retro vibe to the look of the top.
I am fortunate to have many friends in the business who have helped me with the car. Guys like Roy Brizio, Chuck Lombardo Jr., Sid Chavers have helped me make this car the roadster I've always dreamed of. I take pride in doing as much of the mechanical work as possible, but having these guys along with people like Ryan Reed and the crew at Dave's Perfection Automotive in Austin, Texas, and many others who have lent a hand when needed has enabled me to tinker with my own car while still retaining the quality of a first-class professional build.
I always liked the idea that Tom McMullen was always changing his roadster. I tried to do the same with the TRJ Roadster. I have had a vision in mind and have worked towards it. And with the help of friends have been able enjoy both the building and driving aspects of owning a roadster.
I have enjoyed driving the car in and around the San Francisco Bay area where we are located. But, most of the enjoyment and most of the miles have been on long distance road trips. I drove the car to the Street Rod Nationals in Louisville, Kentucky, in both 2007 and 2008. In 2008 we flat towed the chassis for Geoff Miles' '29 highboy behind my roadster. The story of these road trips appeared in TRJ #39 & 42. I have also made countless trips to Southern California. Displayed the car in the Grand National Roadster Show (where it won the prestigious L.A. Deuce award presented by the L.A. Roadsters as their idea of a street driven Deuce. This may have something to do with driving 400 miles to Pomona in freezing rain and snow).
At last year's Hot Rod Reunion at Bakersfield I was asked to transport Hall of Fame inductee Larry Dixon Sr. down the famed Famoso quarter-mile during the Hall of Fame parade. This year I drove it to Austin, Texas, for the Lonestar Roundup and most recently I participated in the 50th L.A. Roadsters Show. A few years back it was presented the Bruce "Deuce" Olson Memorial Award at the GoodGuys West Coast Nats by Gary Meadors.
I sold the Lobeck roadster after a dozen years or so of ownership with the idea of starting The Rodder's Journal. Now I find my self in a similar circumstance. The magazine business is changing fast and I see plenty of new opportunities for The Rodder's Journal. To take full advantage of these opportunities while doing my best to avoid potential pitfalls, I feel I need some extra cash on hand that the sale of the TRJ Roadster will provide. This is the only reason that I am selling this car.
I have spent considerable time determining the car's value. I talked with Roy Brizio and he estimates that the car as it now sits would cost more than $250,000 to be built in his shop. This figure would be with a reproduction body and a crate engine. I feel that all of the first rate hi-po parts in the 406-inch smallblock Chevy engine adds some value, but I think in reality adds more in terms of driving fun. I do think that the original Henry Ford body does add significant value. I also believe that the fact that this car has been The Rodder's Journal roadster from the mid-'90s through our 20th Anniversary adds provenance. The fact that it is original bodied car built by Brizio Street Rods certainly doesn't hurt the value. I believe that the triple threat provenance of being an original Ford-bodied roadster built into a first rate street driven hot by Roy Brizio Street Rods and that it is the Rodder's Journal Roadster makes this one of the few hot rods with this type of lineage that is capable of cross-country rod run tours and impressive stop light to stop light performance.
I believe that all of these factors make for a unique opportunity in terms of a truly collectible traditional hot rod. I have priced this car at $165,000, which is $100,00 to $150,000 less than a similar car would now cost to have built… and it would have none of the provenance.
The Rodder's Journal Roadster has received significant magazine coverage in The Rodder's Journal and other magazines. (Street Rodder publisher Brian Brenan even road with me to the Street Rod Nationals one year.) But, the car has never received a full feature in TRJ. We wanted to wait until we got the quickchange and Model A spring in place and gave the engine the right look before doing so. We plan to do a full feature with the new owner mentioned prominently in the article and even pictured in the driving shots, etc.
This is a once and a lifetime opportunity and a bargain in in the collector car world. It is the perfect car to round out any world-class collection.
Specs - 43 Pictures Below
Car originally built by Roy Brizio Street Rods
Clear California title, Currently registered
Body
1932 Ford roadster
Original steel Ford body
Windshield chopped three-inches
Custom three-piece aluminum hood by Jack Hagemann
Hood side panels louvered
Original 1932 Ford firewall
Vintique grille shell
Dan Fink custom grille-insert with stock style '32 crankhole
King Bee seven–inch headlights
'39 Ford taillights
Stock-style '32 Ford gas tank
'32 Ford roadster dash, with Stewart-Warner-style 5-gauge instrument panel with engine-turned insert
Classic Instruments custom Rodder's Journal gauges
Classic Instruments electronic speedometer
Top
Sid Chavers Bop Top in off white with removable rear window
Paint
DuPont Black urethane paint
Paint by Mickey Galloway
Chassis
Roy Brizio Street Rods chassis
Based on reproduction '32 rails with 108-inch wheelbase, two-inches over stock
Brizio round tube center crossmembers
Model A-style front crossmember
Model A-style rear crossmember
Stainless spreader bars front and rear
Front Suspension
Complete front suspension chromed
Super Bell 4-inch dropped I-beam axle
Durant Mono-leaf front spring
Super Bell spindles
Super Bell disk brakes
Pete & Jake's tube shocks
Pete & Jake's hairpins
Brizio Panhard rod
Pete & Jake's Vega-style steering box
Rear Suspension
Posies Model A rear spring
Winters V8 quickchange, polished
Winters Early Ford-style axle bells
Pete & Jake's ladder bars, chrome
Pete & Jake's tube shocks, chrome
Johnson's Hot Rod Parts splined sprint car-style sway bar
Custom Panhard rod
Ford Racing 11-inch drum brakes
Engine
406-cid smallblock Chevy engine
400-inch Chevy block bored .030-inch over
4340 forged steel crankshaft
Manley 5.7-inch H-beam connecting rods
JE forged pistons
9.8:1 compression ratio
CompCams 280HR Magnum hydraulic-roller camshaft
CompCams hydraulic-roller valvetrain
CompCams roller rockers
ARP Polylocks
Edelbrock Performer RPM aluminum heads, polished
Edelbrock Performer RPM intake manifold, polished
Holley 670cfm Street Avenger dual-feed carburetor
Super-Sucker 1-inch tapered carb spacer
MSD Pro-Billet ignition
MSD-6 electronic ignition box
MSD 8mm ignition wires
Sanderson full-length headers
Sanderson complete custom exhaust system
Flowmaster Mufflers
Headers and exhaust system ceramic coated
Powermaster starter
Vintage Air 16-inch electric fan
Walker radiator
Professional Products harmonic balancer
Large capacity aftermarket oil pan
Moon finned-aluminum valve covers-polished
OPG Chevy Hi-Po open element air cleaner
Transmission
Borg Warner T56 6-speed transmission
Centerforce clutch
Hurst shifter
Interior
Complete Sid Chavers interior and trunk upholstery
Roll and pleat upholstery done in black Mercedes leatherette
Dark Grey Mercedes-weave carpet
Mullins aluminum steering column and drop, polished
Bell 3-spoke steering wheel
Wheels and Tires
two complete sets of wheels and tires included 
A 3rd set of ET III wheels with new Firestone dirt-trackers is now being added
Long distance driving set
Front
15x5-inch American Racing aluminum 5-spoke Torque Thrust wheels, polished
Michelin XZX 165-15-inch radial tires
Rear
16x10-inch ET-III aluminum 5-spokes, polished
Michelin 275-70/15-inch radial tires
Around town and car show set
Front
15x4-inch ET-III aluminum 5-spokes, fully polished
Michelin XZX 145-15-inch radial tires
Rear
16x10-inch ET-III aluminum 5-spokes, polished
12.00-16-inch New M&H 1967-style slicks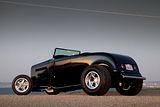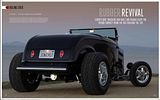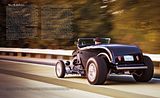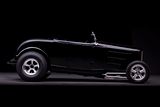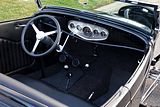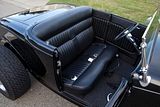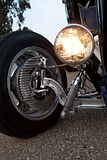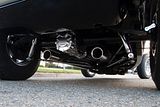 5 Wheel and Tire Combos - Your Choice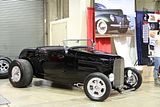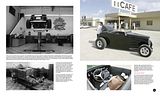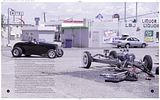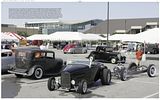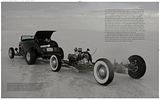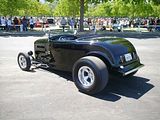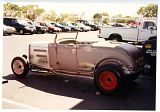 LARGE PICTURES BELOW

 '32 Ford Highboy roadster underneath the Bay Bridge in San Francisco, California. '67-style M&H slicks mount to 16x10-inch Polished 5-spokes, while Michelin 145R-15s are used with polished 15x4 5-spokes up front.
Recent additions include new Coker Firestone 16-inch dirt-trackers on polished 5-spokes and a fully polished Winters V8 quickchange suspended by a Model A spring.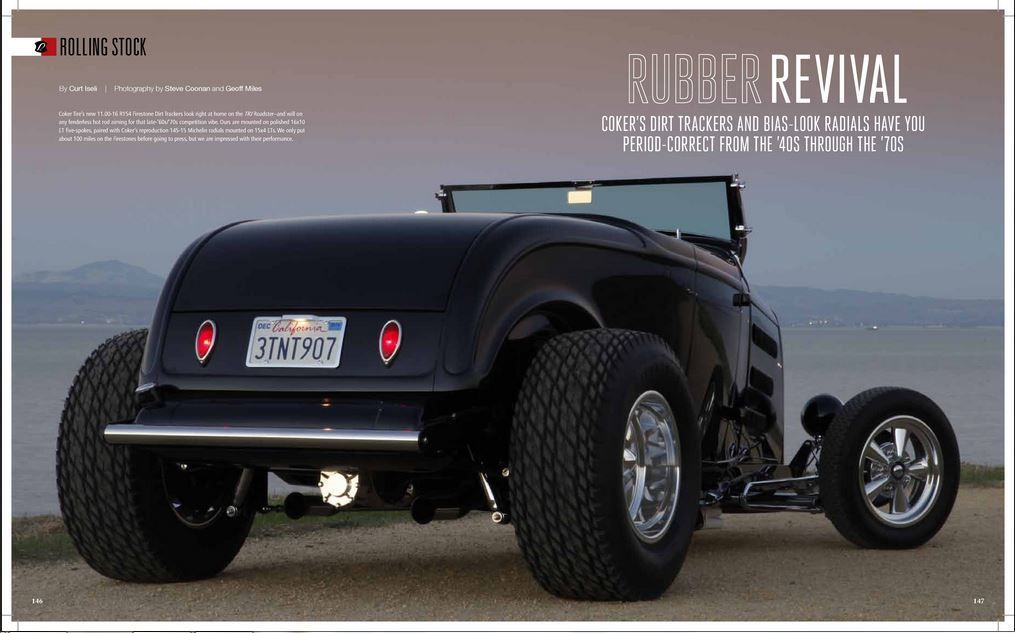 The TRJ Roadster was used as a test vehicle for the new Coker dirt-trackers in TRJ #65.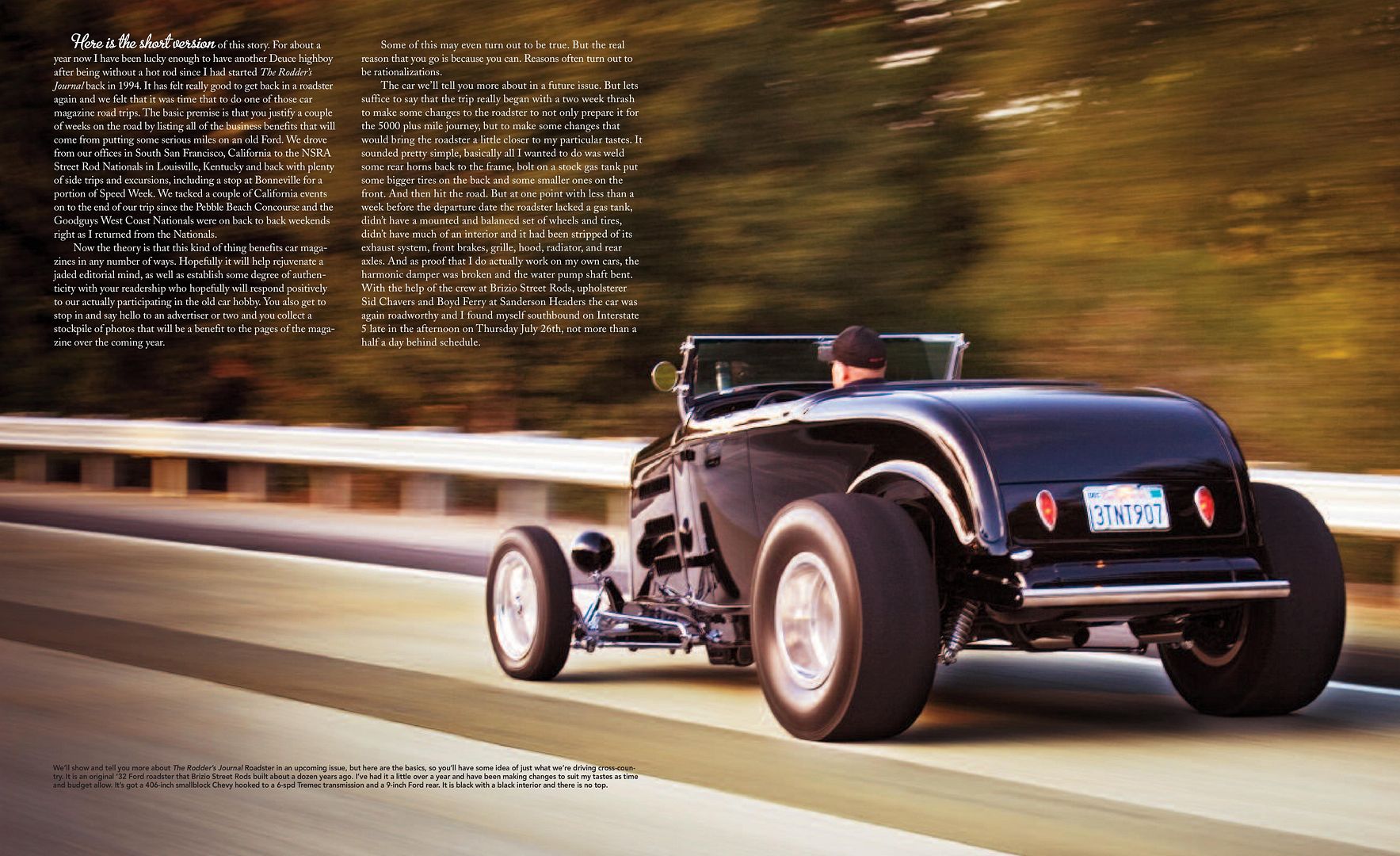 On the road near San Francisco, headed for points unknown.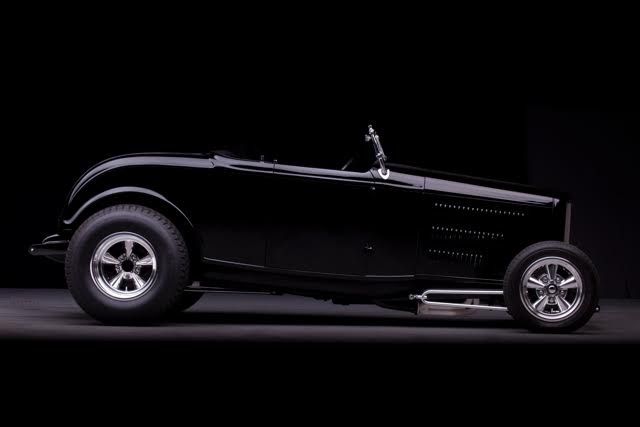 The Roadster in the TRJ studio.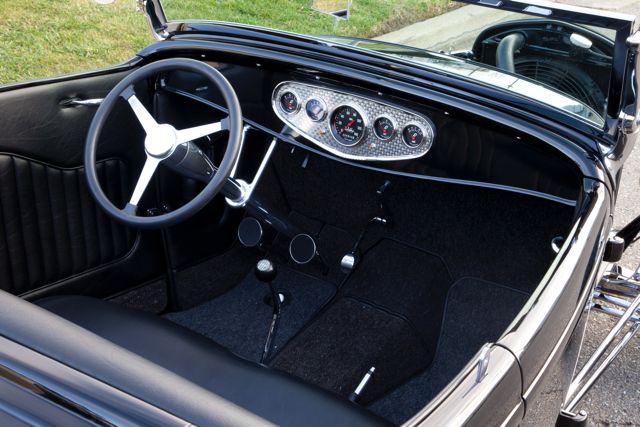 A steel roadster dash mounts to the original Ford body.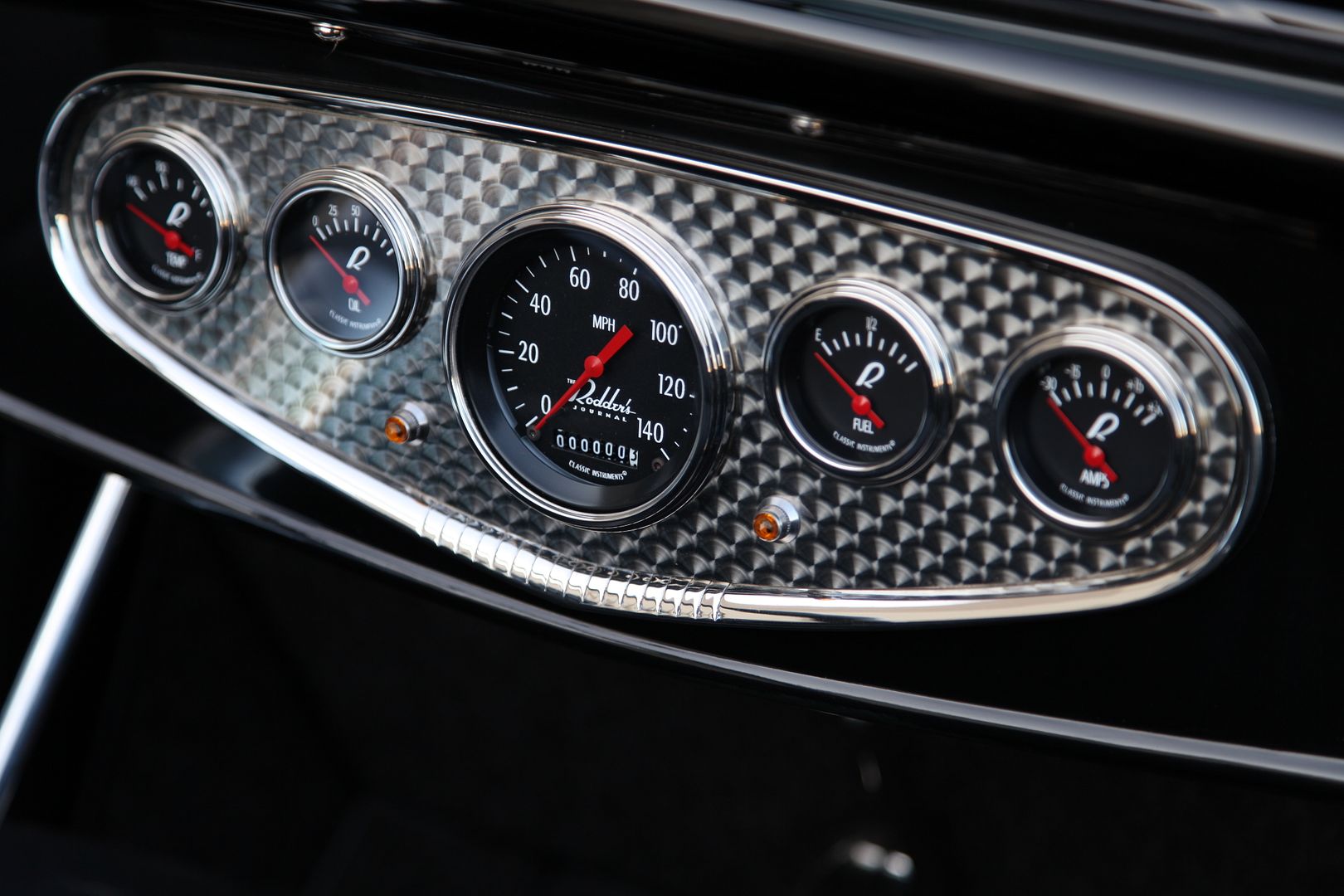 The 5-gauge panel has an engine-turned insert and has been fitted with custom Rodder's Journal gauges from Classic Instruments.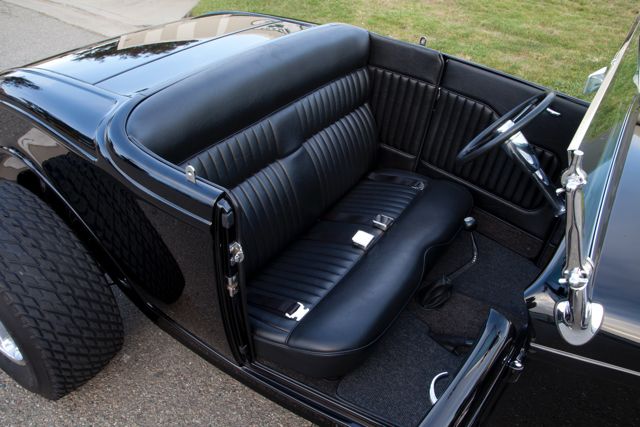 Sid Chavers stitched the traditional roll and pleat upholstery using the super durable and no longer available Mercedes leatherette. The car also comes with a new Sid Chavers' Bop Top in off-white.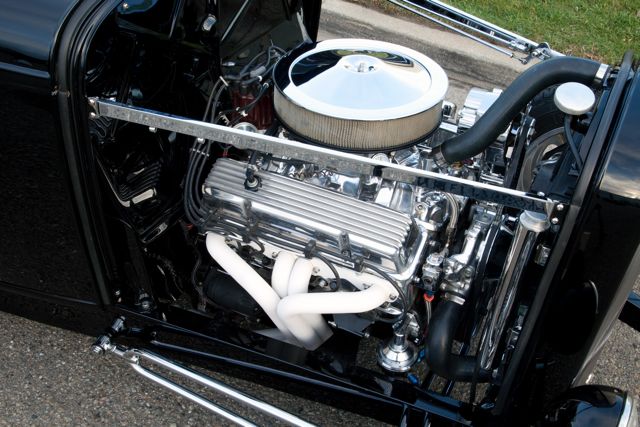 The engine is a healthy and reliable 406-inch smallblock Chevy fitted with only the finest parts. The white ceramic coated headers, Moon valve covers and a Repro GM high performance air cleaner give the engine the appropriate '60s muscle car look.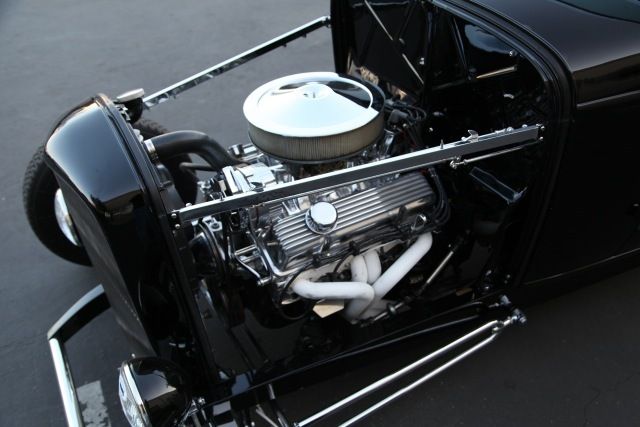 The firewall is an original '32 Ford item cleverly modified by Brizio Street Rods.
The engine continues the black, chrome and polish theme of the car. A 6-speed manual transmission combined with the cars' lightweight and powerful engine make for a rewarding driving experience.
The chrome dropped I-beam axle, Super Bell disc brakes with Wilwood aluminum calipers and Pete & Jake's shocks ensure that the car stops and handles as good as it goes.
The Sid Chavers upholstery extends to the fully detailed and functional trunk. It is big enough to carry luggage for two and all of the TRJ photo gear on cross country journeys. Taillights are '39 Ford teardrops.
Nothing beats the look of a polished quickchange beneath the rear of a Highboy roadster! The ladder bars and shocks are from Pete & Jake's. Posies Model A spring and crossmember are also used. The axle bells are the early Ford style from Winters.
This how the car looked a few weeks back when we had the hood off for a little detailing before our trip down to the Grand National Roadster Show in Pomona.
We've had the TRJ Roadster on display at the GNRS 3 times in the years we have owned the car. I believe this photo is from the first of these occasions. We were more than pleasantly surprised to take home the L.A. Roadsters' award. I remember we drove it down from San Francisco to Pomona in freezing rain, and this was before we had a top!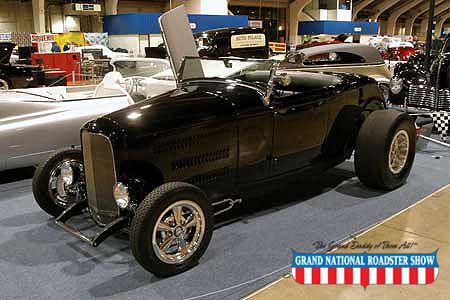 5 Wheel and Tire Combos - Your Choice!
We changed all five sets over the course of the Grand National Roadster Show in the TRJ booth. It's hard for us pick a favorite. We did like the way the steelies and the Rocket smoothies gave the car a completely different look and feel compared to the polished mag wheel big-and-little combos we usually run.


Rocket as-cast solids with Coker Excelsior tires in 16 and 18-inch sizes.
Vintique steelies with traditional caps and rings mounted with 15 and 16-inch bias-ply Firestone blackwalls from Coker.
Fully Polished ET 5-spokes with Michelin radials and repro '67 M&H slicks from Coker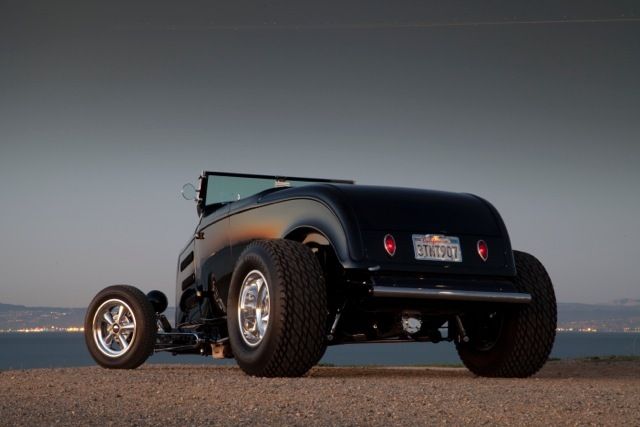 Same basic ET 5-spoke combo, but with Firestone dirt-trackers in place of the slicks.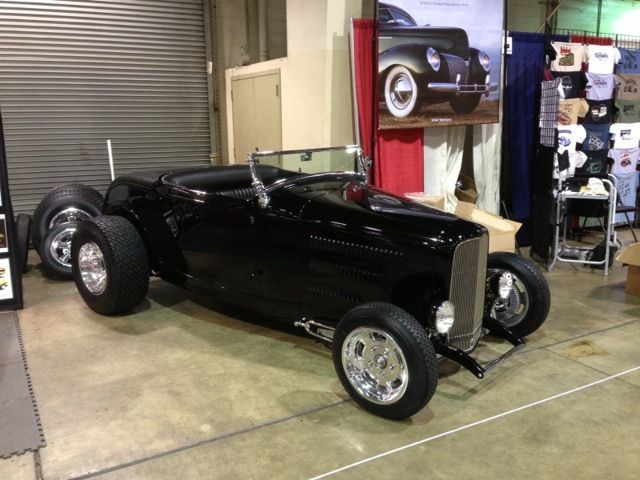 Michelin 145-15-inch radials and 16-inch Firestone dirt-trackers mounted on ET-III fully polished wheels.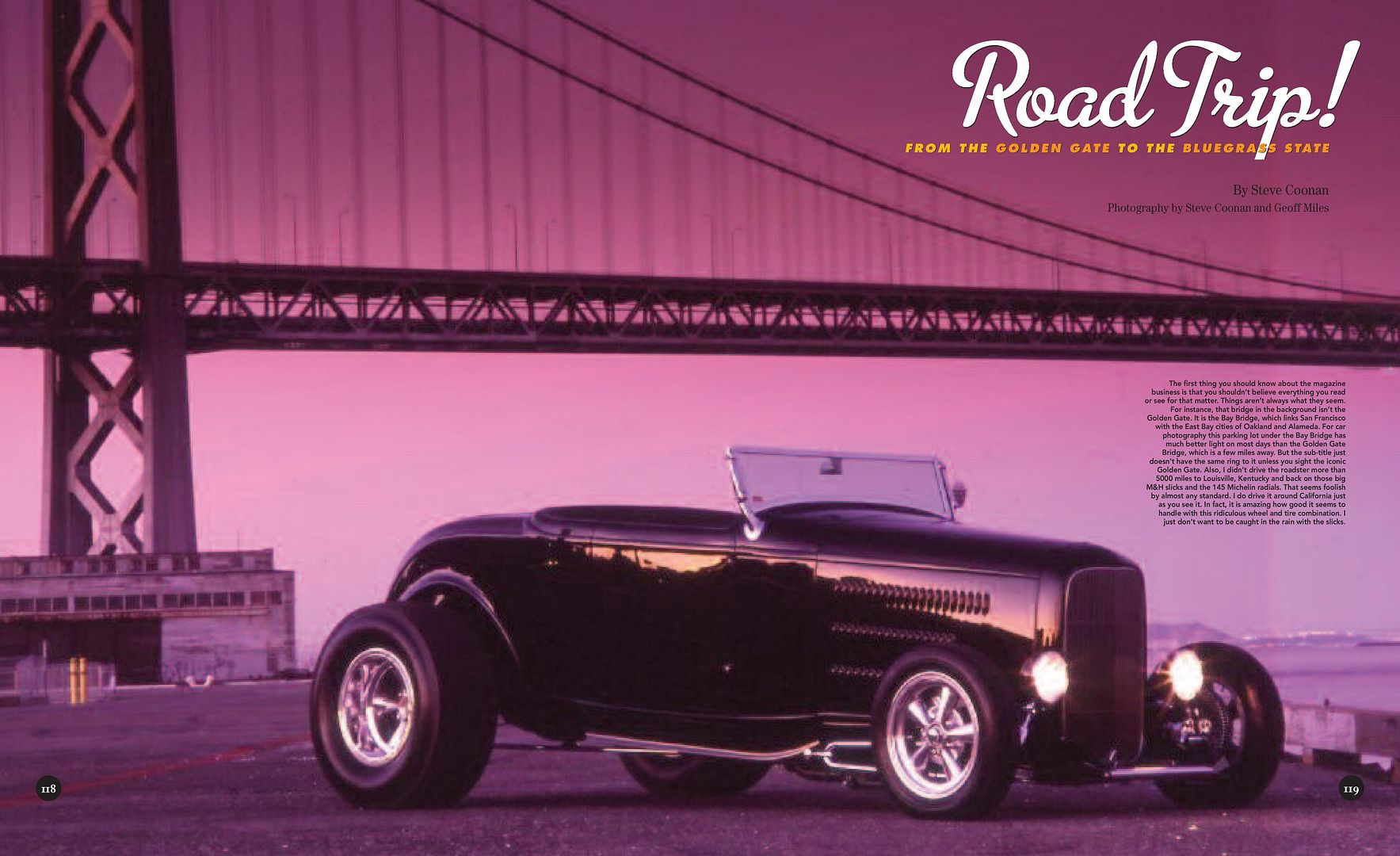 In TRJ #39 we chronicled our trip to the Street Rod Nationals in , Kentucky. Our start and finish location was under the Bay Bridge in San Francisco.
We picked up Street Rodder Magazine Editor and long time friend Brian Brennan in Southern California. Did some last minute checks on the car at California Street Rods.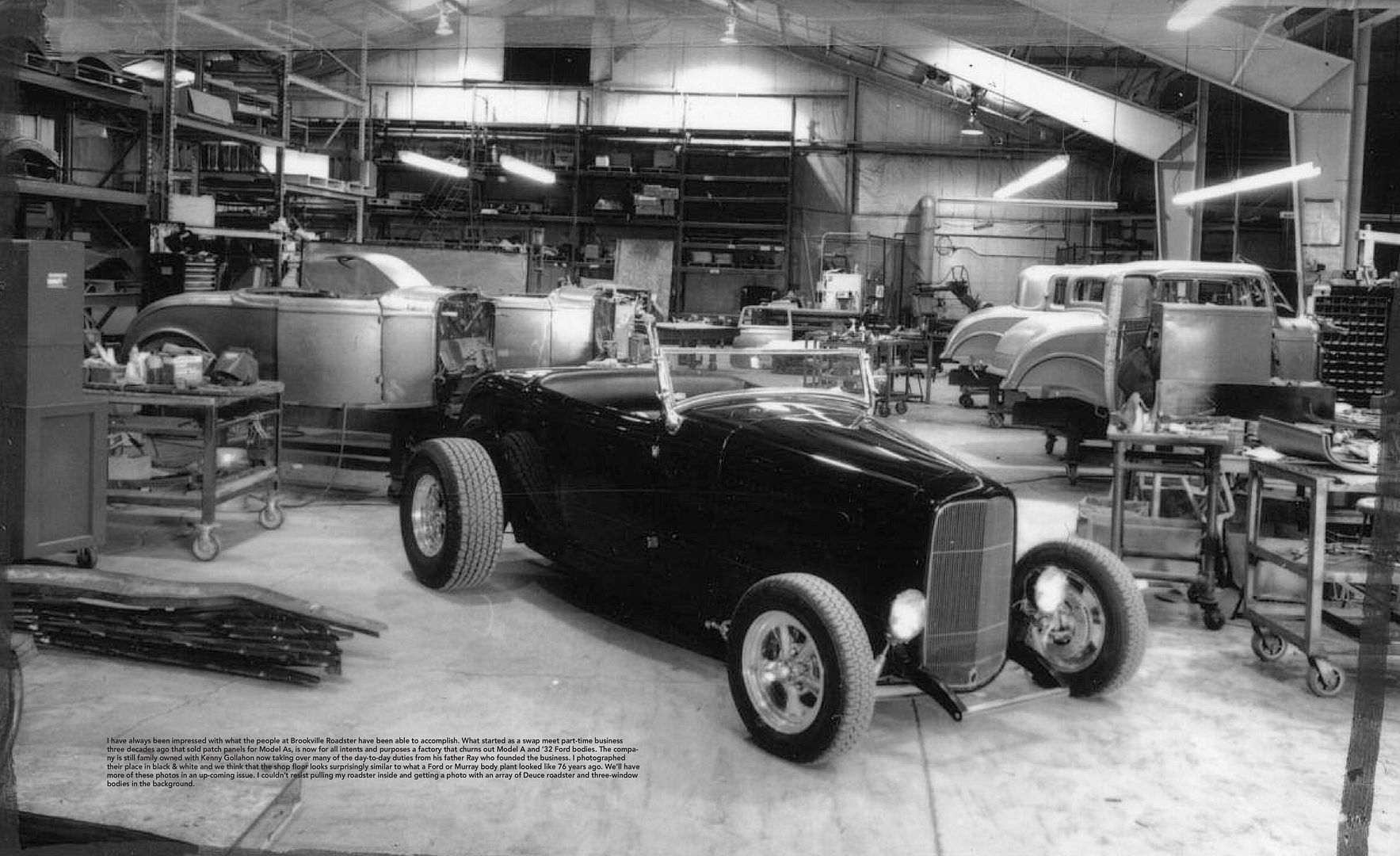 After the Street Rod Nats we drove north east and stopped at Brookville Roadster in Ohio. Our original bodied old Ford looked good among all of Brookville's fresh Deuce sheetmetal.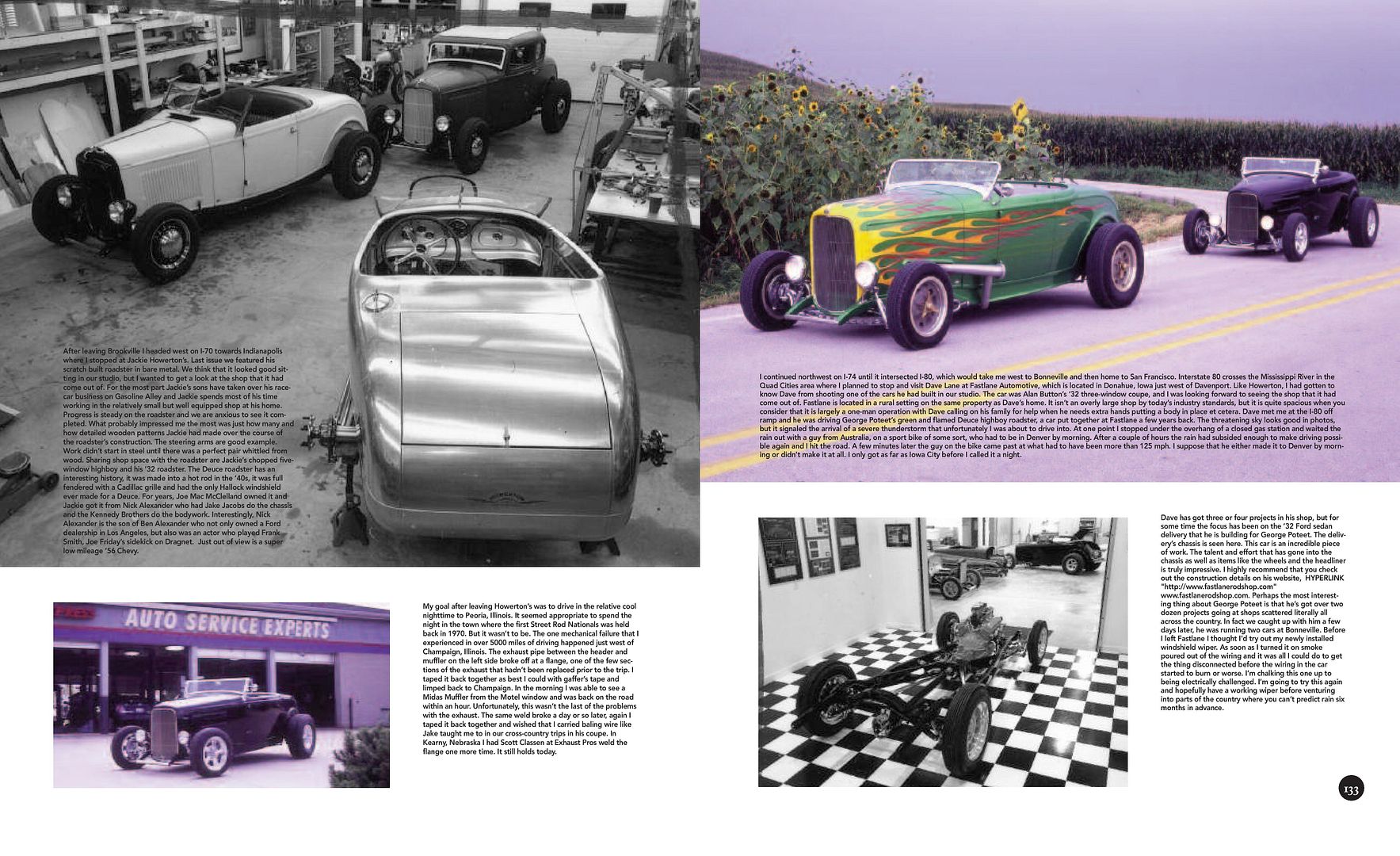 Stops on the trip home included visits with Jackie Howerton in Indianapolis and Dave Lane at Fastlane in Iowa.
We got to the Bonneville Salt Flats in time to take in the races, but decided the salt was too wet to take the TRJ Roadster beyond the end of the road. We got this shot with the legendary Gray Baskerville full-fendered roadster (now owned by Jim Shelton) along with the iconic Bonneville sign.
A year or so later we drove the roadster back to Louisville for the Street Rod Nationals. This time, however, we decided to tow Geoff Miles' highboy chassis, which we then displayed in our booth.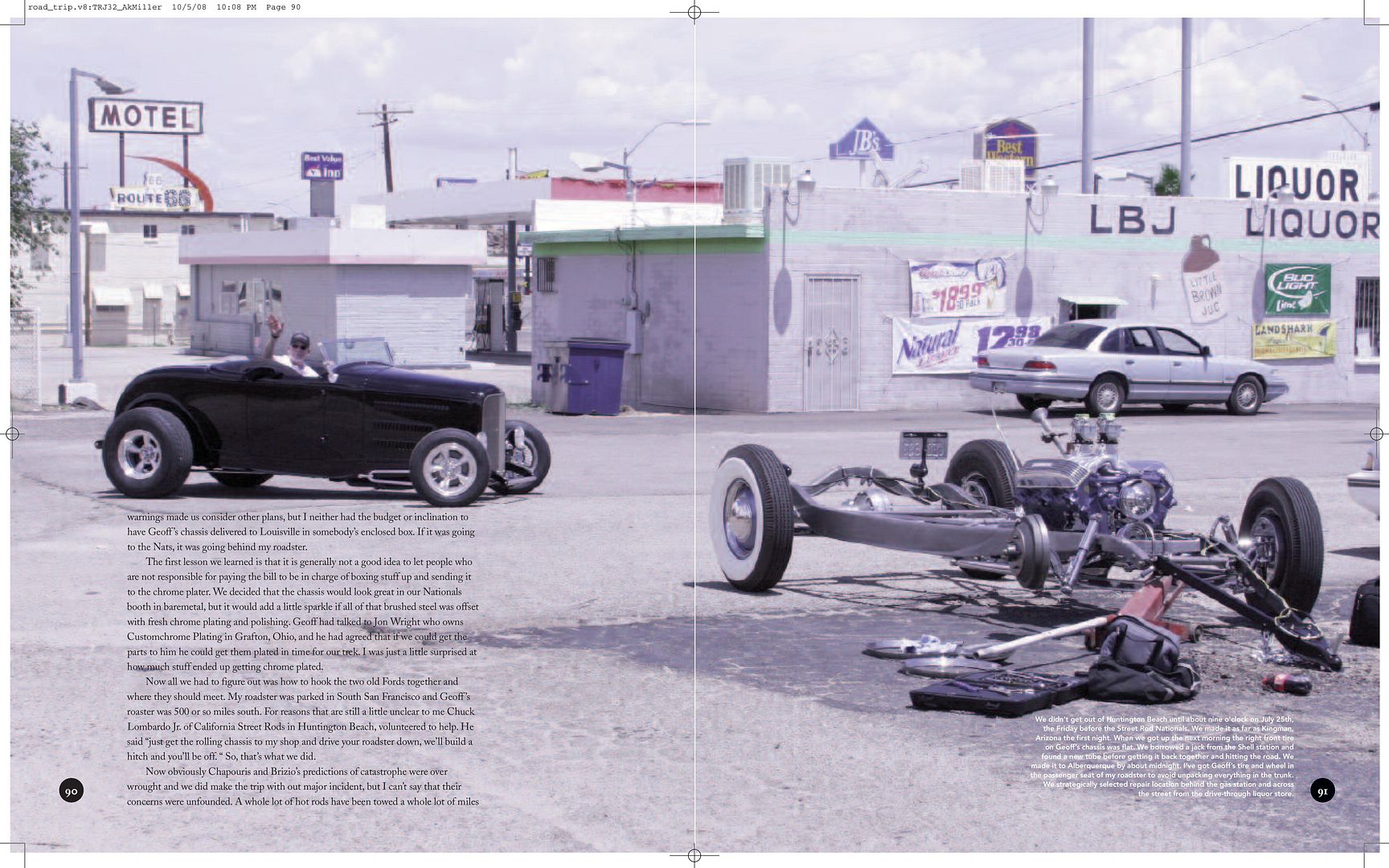 Our only real mechanical problem was a flat tire on Geoff's chassis.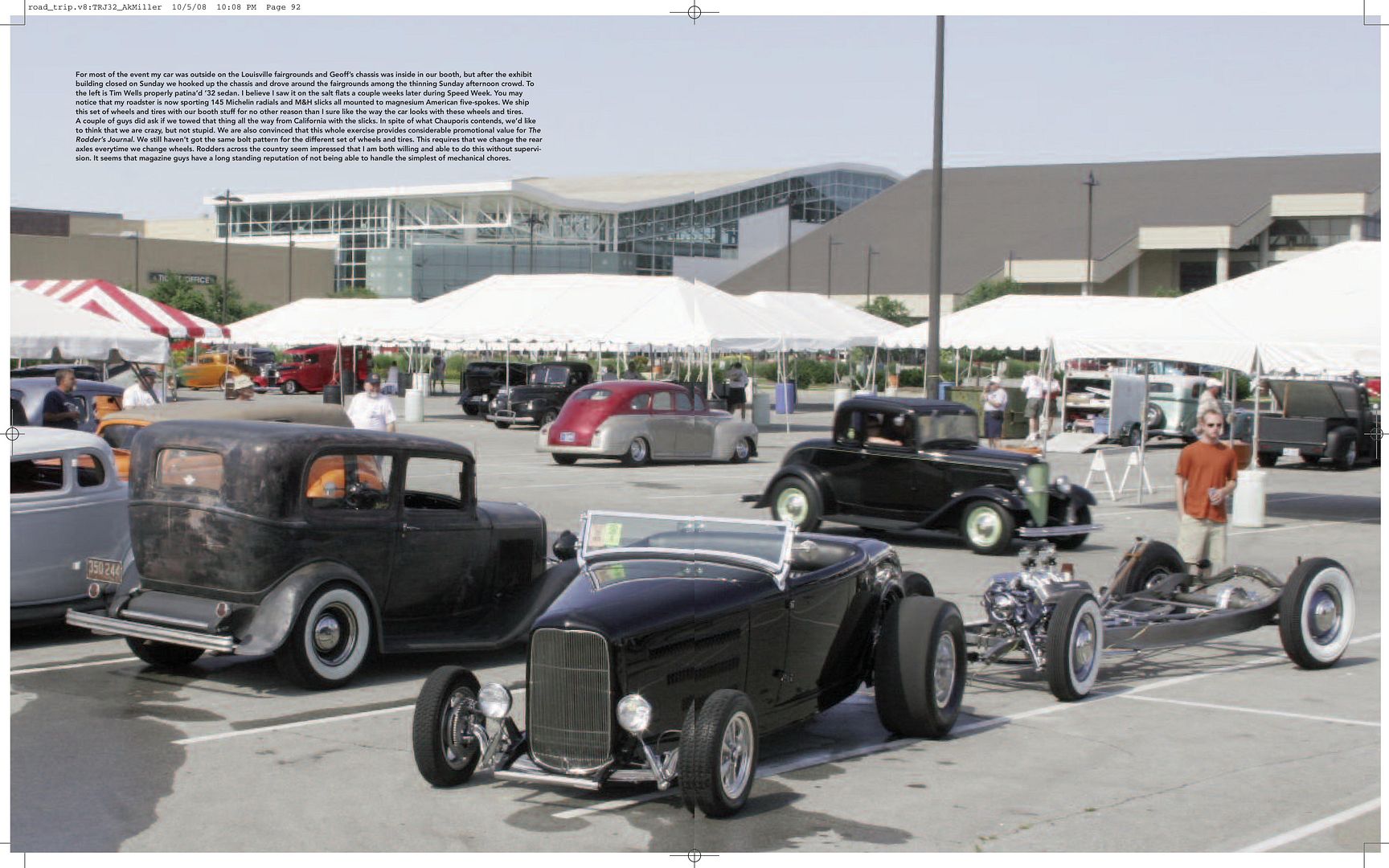 Here we are cruising the fairgrounds in Louisville on Sunday afternoon after getting Geoff's chassis out of the TRJ booth.
Here we are motoring across Utah, almost back to Bonneville.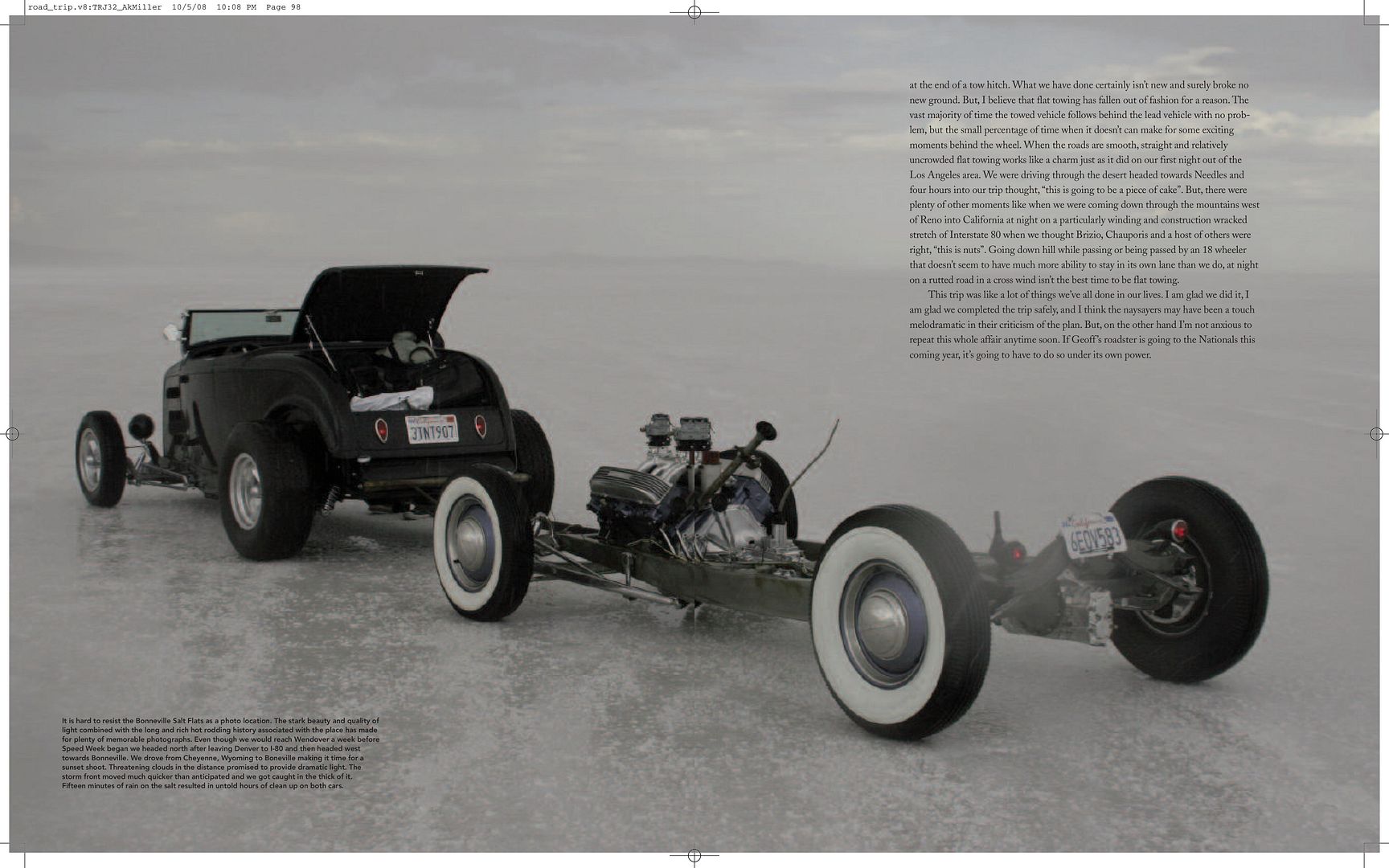 Our Bonneville photo session was cut short on account of rain. In retrospect, I should have gotten the Bop Top about a half dozen years earlier!
The TRJ Roadster doing what it does best, goin' down the road!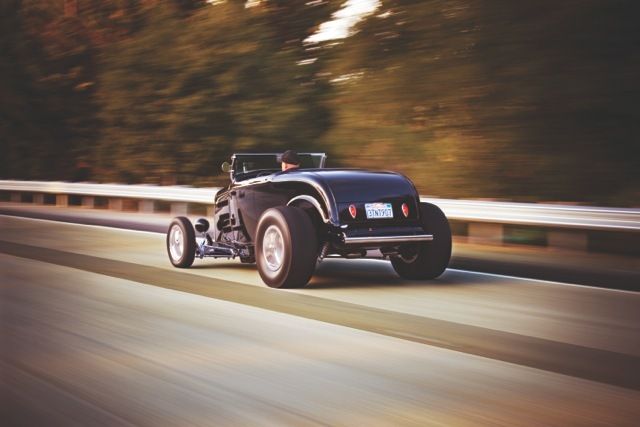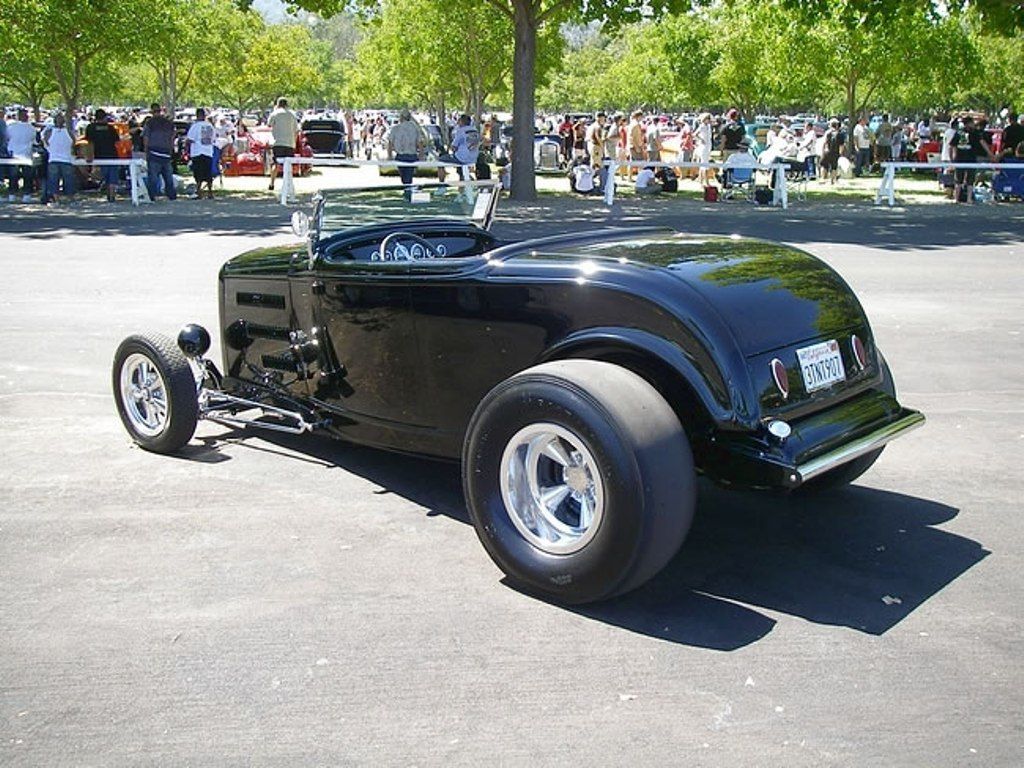 The roadster at Goodguys Pleasanton the year we were honored with the Bruce Olson award.
At CSR during the conversion to the Winters quickchange.
From Ohio to Texas and Indiana to Arizona the TRJ Roadster has seen its fair share on the highways and back roads of the USA.
At the NHRA California Hot Rod Reunion in Bakersfield we were asked to chauffer drag racing legend Larry Dixon Sr. down the famed Famoso quarter-mile. Of course you gotta run the slicks when you take it to Bakersfield!
This snapshot was taken out front of the old Brizio Street Rods facility during the car's construction. The body looked good in baremetal, needing only small patches in the quarters. The aluminum hood is the work of Jack Hagemann.
What's a little ironic is that these photos of the car are in the same parking lot nearly 20 years later. The car has been finished for years and the old Brizio shop is now The Rodder's Journal world headquarters!